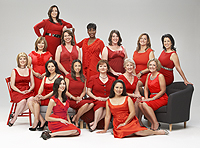 Stand up and speak out against heart disease by wearing red in February or throughout the year.
All across the country, people have been wearing red to show their support for Go Red For Women and to help raise awareness of heart disease. But it's not just individuals who Go Red. Companies are joining the movement and so are entire cities!
Join Pacific Leisure and Pismo Beach in supporting GO RED FOR WOMEN Friday Feb. 4th, 2011.
Click here for more info about GO RED FOR WOMEN
Category: Pismo Beach California