Pismo Beach clean up after the 4th of July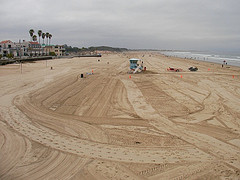 The day after the huge crowd that descended on Pismo Beach California for the annual 4th of July celebration. Some of us called it as the biggest crowd in recent memory. It was great weather and everyone was treated to diverse music and fabulous traditional fireworks by the Pismo Beach Chamber of Commerce.
As usual, we must recognize our City crews that hit the beach at first light on the 5th. The beach is now spotless. The image was taken at 9am. Kudos to our City Maintenance Staff and everyone that pitched in to help.
More info from Pismo Travel Log
Category: Pismo Beach California