The May 17th, 2012 Birthday adventure included a Carrot Cake Review.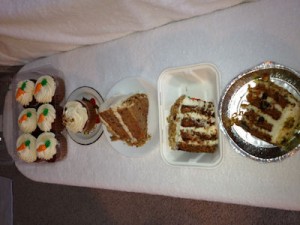 Carrot cake was purchased from Taco Temple in Morro Bay, Costco in San Luis Obispo, Splash Cafe in San Luis Obispo, Madonna Inn in San Luis Obispo, and Giuseppes Express in Pismo Beach, CA.  The prices ranged from $5.50 to to$8.95 per slice.
Who has the best carrot cake?  Each one had a unique taste and texture.  So it depends on what your preferences are.
Price:  Costco had the best price – 6 cupcakes for $6.99.  Taco Temple had the most weight for $6
Weight:  Taco Temple had the heaviest piece at almost 2 pounds– enough cake for several people
Texture:  Madonna Inn had a great texture.  All the cake we tried was moist
Frosting:  Varied with different kinds of cream cheese frosting, with different nuts
Nuts:  Nut lovers would like the pistachios and walnuts in the Guiseppe's Carrot Cake
What the taste testers discovered:  A little carrot cake goes a LONG way!

Costco
1540 Froom Ranch Way
San Luis Obispo, CA 93401
(805) 541-7000
Costco set of 6 Cupcakes
Weight 6- 7 ounces depending on size and frosting thickness
Cake:  Spice cake with very small carrot bits and chopped walnuts in the cake
Moist Cake
Great Value $6.99 for 6
Splash Cafe
1491 Monterey St
San Luis Obispo, CA 93401
(805) 544-7567
Weight:  Almost 8 ounces
Cake:  Spice Cake with small bits of nuts and carrots
Moist texture
Taco Temple
2680 Main St
Morro Bay, CA 93442
(805) 772-4965
Weight: Over 2 lbs for our slice
Cake:  Light spice cake, very dense texture, carrot pieces, and lots of chopped walnuts
Topping: Brown Sugar and Oats on the top of the cake
Price:  $6.00
Very moist because of the dense texture
Giuseppe's Express
800 Price St
Pismo Beach, CA 93449
(805) 773-2873
Weight: 11 ounces
Cake:  Dark spice cake, with big walnut chunks
Moist Texture
Pistachios nuts pressed into frosting on outside of cake
Madonna Inn Resort & Spa
100 Madonna Rd
San Luis Obispo, CA 93405
(800) 543-9666
http://www.madonnainn.com
Weight: 1 lb 2 ounces
Cake: Spice Cake with Carrots and nut chunks
Moist Light texture
Frosting:  Fluffy Cream Cheese and Whip Cream with sliced almonds pressed into the outside
Category: Pismo Beach California